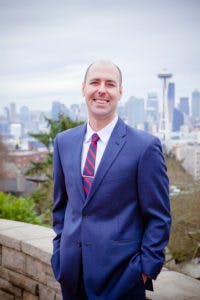 Serving buyers and sellers throughout the Greater Seattle area has been a great joy for Ryan and he always looks forward to handing his clients the keys to their new home. He has a heart for helping buyers and sellers make healthy decisions throughout the real estate sales process.
Ryan's family includes craftsman home builders, agents, and investors – so many of his weekends growing up were spent house hunting and visiting open houses (a tradition he continues with his wife and 3 children today).
Specializing in helping families, investors, builders, and corporations navigate the real estate process…Ryan has been honored to have received Seattle Magazine's "Five Star Agent, Best In Client Satisfaction" Award five times. He has also ranked among the Top 2% of Realtors in the Nation (per the National Association of Realtors).
Ryan has had the opportunity to be interviewed by several media sources including HGTV, MSN, Zillow, Realtor.com, Trulia, HSH, Bloomberg.com, The Fiscal Times, BigIdeasBlog, HSH, and Business Insider. Locally, he has been featured in the Everett Herald for his real estate marketing on luxury homes, been a guest on 570 am's "The Money Hour Show" and 1150 am's "Brashenomics" to share his experience and insights on the Seattle Real Estate market. Notably, he was selected by the US's largest real estate website, Zillow, to speak at their Annual Premier Agent Summit.
Ryan has found that in the midst of real estate booms and busts, mortgage "meltdowns", and experts with opposing viewpoints…most people are looking for someone that genuinely cares, is honest, and can provide straightforward answers to help them process through their options regarding their home purchase or sale.
Clients repeatedly trust Ryan to help them accomplish their goals and trust their colleagues & family to him as well. The vast majority of his business is earned through referrals from current & past clients.
Ryan loves working with home buyers to find the perfect home for their lifestyle, negotiating on their behalf, and helping assure a smooth process through closing. He has trained to teach first time homebuyer education classes through the WA State Housing Commission, has his Accredited Buyer's Representative designation, and understands that today's homebuyer needs a Realtor that can help them thoughtfully navigate the real estate process – not just someone to show them a few houses.
Ryan also enjoys putting his marketing background to use through listing and presenting homes. He has a proven track record for promoting and negotiating homes to sell at or near listing price. In the past year, his average sale easily out-performed the average listing. To put his numbers in perspective, he earned his clients over $20,000 more-per-sale than the average listing in the Greater Seattle Area and helped sell in about half the time.
His team provides customer service in a non-pressured environment that goes beyond the sale of a home. After moving in, a call or question from a past client is always welcome. Please feel free to contact Ryan – it would be his pleasure to work with you or answer any questions you may have.